Downtown Bedford andNearby Attractions
Whether you are interested in outdoor activities like hiking and golfing or your idea of leisure is strolling around our lovely downtown enjoying the shops and galleries, there is something for everyone in beautiful Bedford County.
Enjoy the area's history at the Fort Bedford Museum, Old Bedford Village and pay respects to our nation's more recent history at the Flight 93 Memorial in Shanksville (23 miles west of Bedford).
Wine tasting is always a good time and visitors to downtown Bedford may enjoy wines at Briar Valley Vineyards Tasting Room where they make Pennsylvania wine from grapes grown in nearby Everett, Pennsylvania.
We are very lucky to have a great organization in Downtown Bedford to organize activities to highlight our beautiful downtown. Along with these great events are a multitude of shops throughout the town that are sure to offer something for everyone.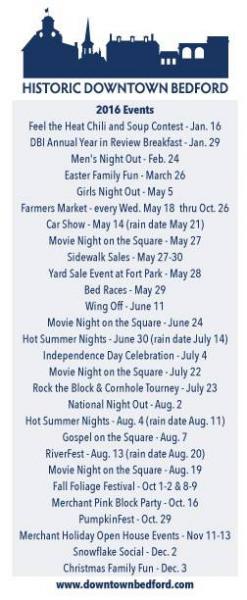 There is plenty to do in Bedford and the surrounding area! All of these attractions are just a day trip away!
Bedford County's Covered Bridges-various locations
Pitt Theater-right across the street
PinHead Amusements- right down the street
Jacks Mountain 1,000 Steps Trail- 55 miles
Fallingwater- 76 miles
Abandoned Pennsylvania Turnpike- 23 miles
Blue Knob State Park- 23 miles
Living Treasures Animal Park- 61 miles
Horseshoe Curve- 41 miles
DelGrosso's Amusement Park- 48 miles
Rocky Gap Casino- 33 miles
Coral Caverns- 7.6 miles
Lincoln Caverns- 56 miles
C&O Canal- 32 miles
Altoona Curve Minor League Baseball- 36 miles
1802 Old Log Church- 8 miles
We are also surrounded by a wonderful selection of State Parks!
Shawnee State Park- 10 miles
Ohiopyle State Park- 68 miles
Warriors Path State Park- 29 miles
Trough Creek State Park- 40 miles
Laurel Hill State Park- 51 miles
Laurel Mountain State Park- 42 miles
Linn Run State Park- 49 miles
Kooser State Park- 50 miles